Augmented Reality comes to the construction site!
The construction stages, from design to development, may require a large number of professionals, who must always be updated on the status of the activities and share a large amount of easily available information. This information must be shared not only among design managers, but also with professionals on construction sites.
Precisely to meet these needs, Brochesia has developed B View, which thanks to Augmented Reality is able to connect all the professionals involved in the construction industry – such as engineers, surveyors, topographers, architects, etc. – through its platform. With B View, it is possible to remotely share design data, technical and working documents, download and modify them remotely.
Also, thanks to the software installed on wearable devices, it is possible to check the construction progress without carrying out an inspection. The operator, wearing the Smart Glasses, will send in real time the recording of what he is seeing, and will also be able to check information, photos or documents sent in Augmented Reality by a remote technician. This results in many benefits: increased safety for on-site workers (who can use the Smart Glasses while having their hands free), a reduction of time, fewer trips to the construction site and, then, a significant cost-saving.
To rationalize the organization and speed up the construction process, Brochesia has also developed B Step, a software designed to improve business and track all the activities composing processes. This solution can be used both from Smart Glasses and PCs, smartphones and tablets and, thanks to the integration between Augmented Reality and the digital workflow provided by Brochesia, allows the operator to follow step by step the instructions to successfully and safely complete the activity.
A construction site has a very complex organization, and a correct management of logistics – from machines to equipment to materials – can produce great benefits in terms of saving time and money. Brochesia B Take is ideal for managing logistical support within these sites. Combined with Smart Glasses, B Take is able to display all the information on the goods available in the warehouse – date of entry, position, quantity, etc. – facilitating their handling, reducing work times for each task and increasing operator's safety.
Use cases in the construction sector
Maintenance, repair & operations (MRO)
Inspections & site survey
Installation, test & commissioning
…whatever you can imagine!
A success story: L&T Construction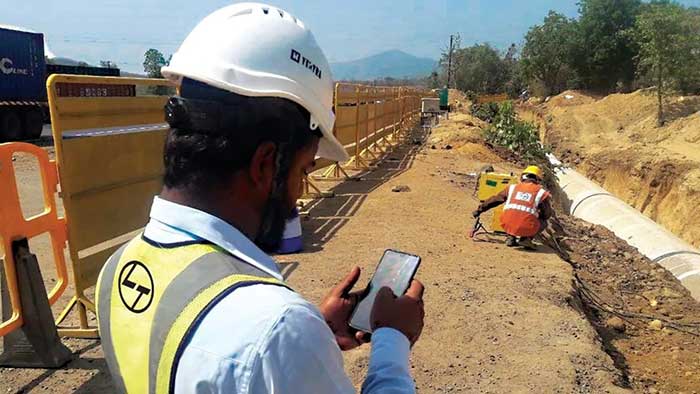 Larsen & Toubro Group is an Indian technology, engineering, construction, manufacturing and financial services conglomerate. The construction arm of L&T, L&T Construction, today is India's largest construction organization, ranked among the world's 15 top contractors and with significant expertise across technology, engineering, construction and infrastructure projects. Brochesia provides L&T Construction with Augmented Reality digital solutions to support remote assistance activities in its factories and construction sites.
Try Brochesia software free for 14 days
Brochesia solutions in Augmented Reality are the perfect
fit for any application field and any sector