Thermal Camera Seek
Compact Pro
A thermal camera is a device, sensitive to infrared radiation, capable of capturing thermographic images or videos.
Infrared thermal imaging is today suitable for all, it is no longer a cost-prohibitive device and is widely adopted in different work contexts.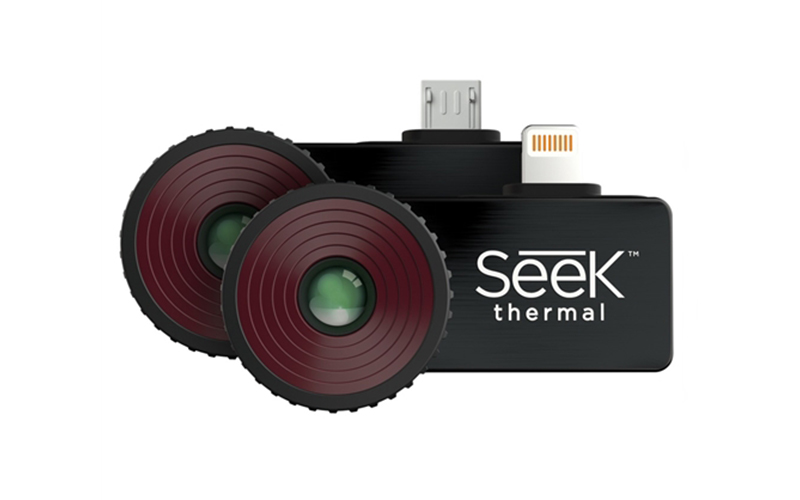 The Seek Compact Pro is a thermal imaging camera that allows professionals to quickly identify malfunction states, otherwise invisible, through the capture of thermal photos and videos. This way, operators will be able to fix them before the machines have any real problems.
How to use the thermal camera?
To use the thermal camera simply connect it to your device, be it a Smart Glasses or a mobile device: once detected, the Brochesia application will start on the display with the thermal camera ready for use.
What can the thermal camera detect?

Energy loss

Overloaded circuits

Overheated pumps and motors

Refrigerant leaks

Loose connections

Underfloor heating

Defective valve diagnostics
Do you want to use Thermal Camera Seek Compact Pro in your company?
Thermal Camera Seek Compact Pro
+
Brochesia
The
complete
solution to
innovate your work
Thermal Sensor: 320 x 240 (76,800 pixels)
Detection Distance: 6 inches to 1,800 feet
Field of View: 32 Degree FOV
Temperature Range: -40°F to 626°F
Frame rate: >15 Hz FastFrame
Lens Material: Chalcogenide
Microbolometer: Vanadium Oxide
Thermal Sensitivity: < 70 mK
Spectral Range: 7.5 – 14 Microns
Temp. Display Scale: Fahrenheit, Celsius, or Kelvin
Color Palettes: 9 Options
Storage Media: Stores Directly to Device
Battery: Low power provided by smartphone (280 mW)
Do you want to use Thermal Camera Seek Compact Pro in your company?