Digital interconnection to meet the needs of the shipping industry
Automation and the fast development of new technologies are radically changing the maritime industry. Innovation has affected all its activities: from production to remote support, from plant maintenance to inspections, to the installation of complex machinery or equipment.
With a wearable device such as Smart Glasses and the B View solution, Brochesia provides a whole set of tools for the maritime industry operators: high-definition camera, audio-video communication with remote technicians, easy access to documentation, files, images and indications, manageable through voice or gesture commands and hands-free. In this way, B View provides a significant added value to the whole industry in terms of quality, saving time and money with correct procedures, safety and fast execution.
In logistics, a key area of ​​the maritime industry, Brochesia has also developed B Take, the software that supports the operators in the goods organization and management. It takes advantage of all the features of wearable devices such as Smart Glasses, allowing the operator to access all the data he needs at any time: work lists, products placement in the warehouse, date of entry, notes on transport, parcel scan, etc..
Finally, to manage complex workflows, Brochesia proposes B Step. This solution, which can be installed on Smart Glasses, displays digital workflows with all the planned activities, so that they can be carried out step-by-step, in complete safety and reducing the risk of error. For each task, the operation details to be carried out. All the activities performed can be recorded and then shared again or analyzed.
Use cases in the maritime sector
Maintenance, repair & operations (MRO)
Inspections & site survey
Installation, test & commissioning
…whatever you can imagine!
A success story: Sea Harmony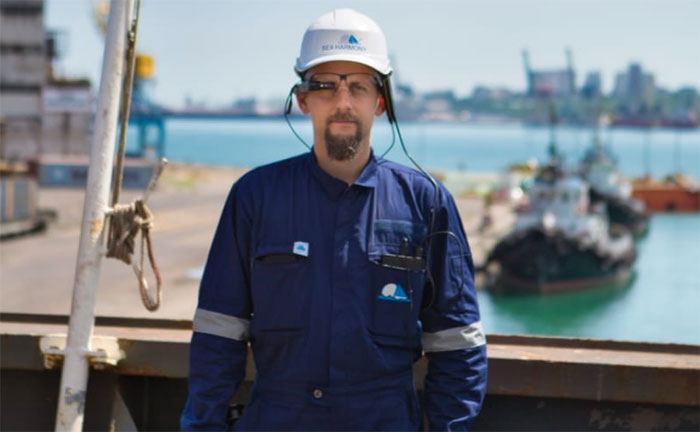 Sea Harmony is a global maritime services company specializing in the provision of general ship supplies, spare parts of the leading technical maritime brands. The company has chosen the B View software to provide its technicians with continuous and immediate support in activities such as plant maintenance, equipment installation, training and more.
Try Brochesia software free for 14 days
Brochesia solutions in Augmented Reality are the perfect
fit for any application field and any sector