Work in the plants becomes safe, fast and productive
The potential of technological innovations has prompted Oil & Gas companies to use solutions aimed at digital transformation to reduce operating costs and improve their efficiency.
The solutions in Augmented Reality, in fact, are allowing these companies to simplify their tasks, increasing the plants' safety level and reducing operating expenses. Above all, the opportunity of working remotely, without personally reaching plants often located in hard-to-reach places, is a significant time and costs saving for these companies.
Brochesia meets these needs with B View, the software designed for the remote support through Augmented Reality. Thanks to the Brochesia solution installed on a wearable device such as Smart Glasses, the operator is in contact with remote technicians who, by checking the problem, will guide him step by step to its resolution. This ensures that the operation is correctly and quickly performed, reducing the chance of accidents in high-risk plants.
Safety, as mentioned, is one of the main aspects in this kind of plant, and that's why Brochesia has also created B Step. B Step is a software, which can be installed on Smart Glasses, dedicated to the organization and management of workflows, to the analysis of operational steps and to the visualization of reports about times and methods on each individual activity. B Step is therefore an important instrument for Oil & Gas operators to better monitor every single procedure and ensure to carry out all in the safest and most correct mode.
Finally, for logistics management Brochesia has developed B Take, a solution that can also be perfectly implemented by Oil & Gas companies. With B Take installed on Smart Glasses, the operator has immediately available all the information on the organization of the warehouses, the position of the products, their quantity, the date of entry and much more, with the possibility of moving freely.
Use cases in the oil & gas sector
Maintenance, repair & operations (MRO)
Inspections & site survey
Installation, test & commissioning
…whatever you can imagine!
In 2020 Sibur, the largest integrated petrochemical company in Russia, chose to use the Brochesia B View solution to enhance its production processes, in particular maintenance and support services, through Augmented Reality and remote assistance. This has resulted in great savings in terms of money and time for Sibur. In fact, local and international technicians and suppliers were able to provide their services remotely, ensuring operations even within the restrictions due to the COVID-19 pandemic.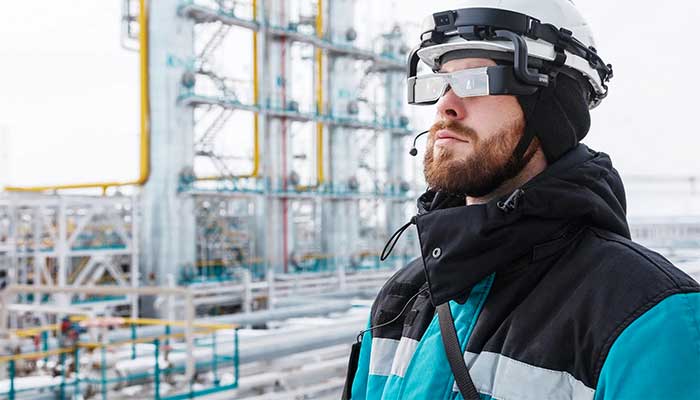 "Brochesia is helping us in our journey to digital transformation; they are a very trusted partner with a consolidated experience in AR software solutions and smart glasses. Since we have adopted the B View solution we saved in time and money when doing activities in our production plants. Moreover we could decrease travels of the most experienced technicians as well as of our suppliers who are now able to give their advice remotely. Finally, we are exploring new possible applications of Brochesia software in the company. I'm sure they can give us the right tools to enhance our Digital Transformation, improving both our production process and business performance".
Alexander Leus, Sibur Head of Industry 4.0
Try Brochesia software free for 14 days
Brochesia solutions in Augmented Reality are the perfect
fit for any application field and any sector