The pleasure to work with free hands using the best Smart Glasses
Smart Glasses (or Smartglass) are technological glasses with a standard sunglasses-like appearance, featuring an internal advanced computer that allows the wearer to live an all-round Augmented Reality experience.
These Digital glasses, thanks to their characteristics, can be qualified as Media Glasses or Video Glasses, since they are able to reproduce both video and audio files, apart from supporting other services like Wi-Fi and Bluetooth connection.
In the last few years, technology has been overwhelming our very existence. We live in symbiosis with our smartphone and we never let go of our computers, because these devices, for better of worse, became part of our life.
The distinctive feature of Smart Glasses is that they can function by simply wearning them, and they can adapt to any head and face.
These Media Glasses have been available for five years now; the Google Glass flop made us believe that they would disappear, but instead the interest in these devices is growing stronger. Even Facebook declared that within the end of 2020, along with Luxottica, they are going to release a new Smart Glasses model that will revolutionize the market.
AR Smart Glasses
Augmented Reality is experienced mostly by head-mounted devices and smartphone applications.
The AR overlaps digital contents to the real world. Therefore it improves the user experience in the real world instead of replacing it.
Unlike virtual reality, which is artificial, AR helps to improve the world around you, allowing Smart Glasses wearers to do any activity with a better support.
The AR has the support of technology giants, that are investing not only in the hardware, but they are also working with developers to create easy to use softwares.
For example, Brochesia is testing new AR forms through software solutions suitable not only for devices, but for smartphones too.
Let's discover which are the best smart glasses to use.
The easiest Smart Glasses to use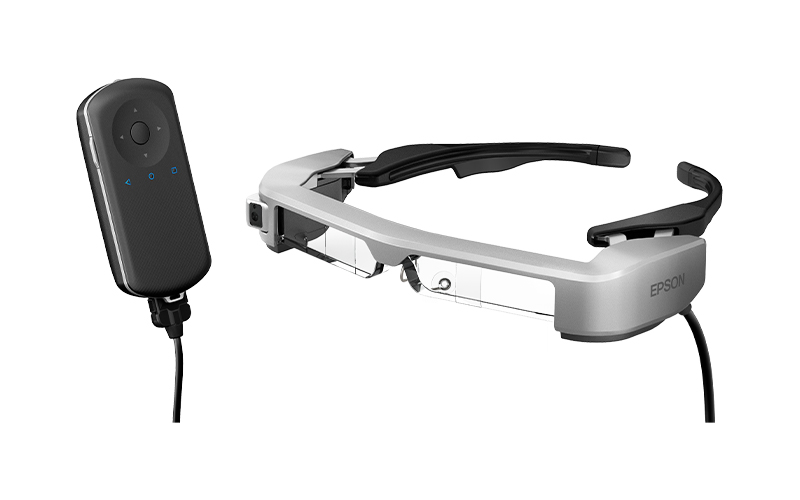 Binocular glasses
Touchpad controller
Android Platform 5.1
Battery life: 6 hours
Epson Moverio Smart Glasses presents its gem, BT-350.
This Smart Glasses model have a practical design thanks to the binocular shape, and it's easy to wear. It has a stereoscopic vision, transparent lenses and a SI-OLED matrix.
The device has an Android platform, which is the most used for mobile devices and interconnects perfectly to every application, like Brochesia Software.
Easy to wear
The Smart Glasses arms can be adjusted in a dynamic way to the head of the wearer. Ideal for people that are wearing eyeglasses.
Smart Glasses Epson Moverio BT-350 are designed to be worn without any problem on standard eyeglasses. The new nose pads also ensure a perfect wearability.
Smart Glasses with controllers
These devices, like most of Epson Moverio's glasses, have a little touchpad controller. The controller buttons can be customized or deactivated to considerably simplify the interaction. Thanks to the controller not being mounted directly on the frame, these smartglasses are currently the lightest model.
Data sheet smart glasses epson moverio BT-350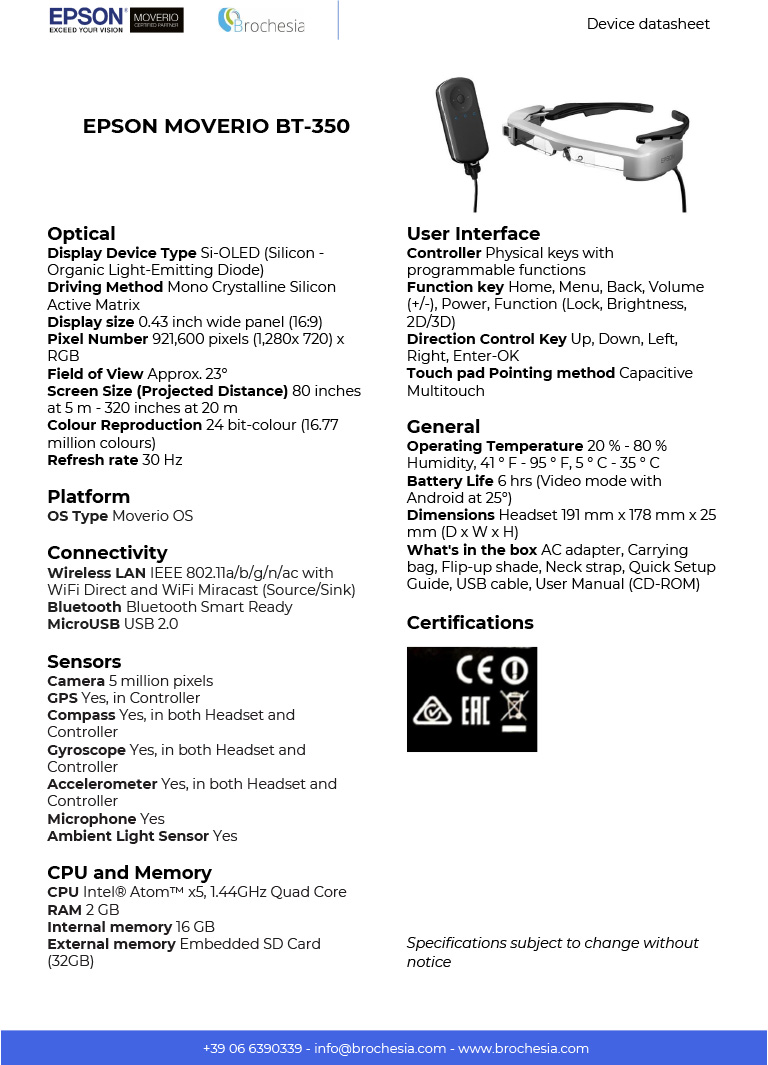 Most innovative Smart Glasses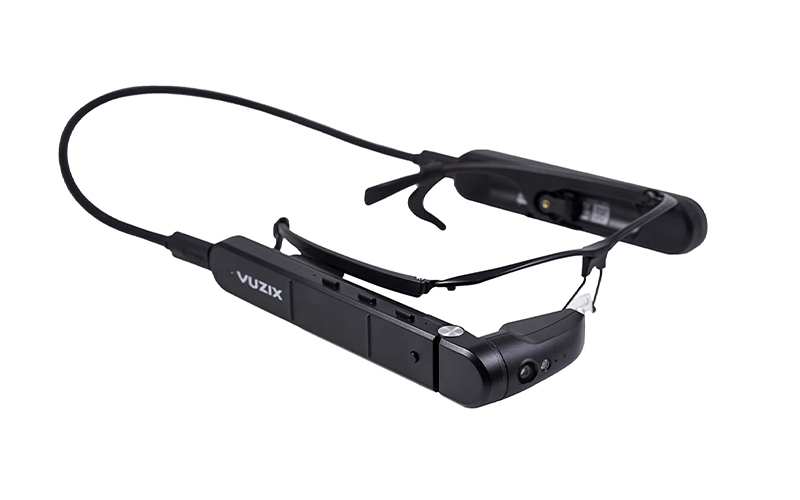 8.1 Android Platform
High quality video and audio
Light frame
12 hours battery life
Smart Glasses M400 are the latest entry in Vuzix, presented at MWC of Barcelona 2018.
Compared to previous devices, these ones have a new Qualcomm® Snapdragon ™ XR1 platform. It is the ideal model to experience high quality video and audio.
High quality camera
Vuzix M400 is equipped with 12,8 Megapixel camera that grants an excellent video and audio quality with picture stabilization and autofocus (PDAF) for a faster and wider range scanning.
Smart Glasses for a great User Experience
Interaction with these glasses is possible by using customizable vocal commands that support up to three languages, or by a multifinger support touchpad. They offer Head and Motion tracking to company users, a more straightforward and fluid way to interact with AR.
Data Sheet vuzix M400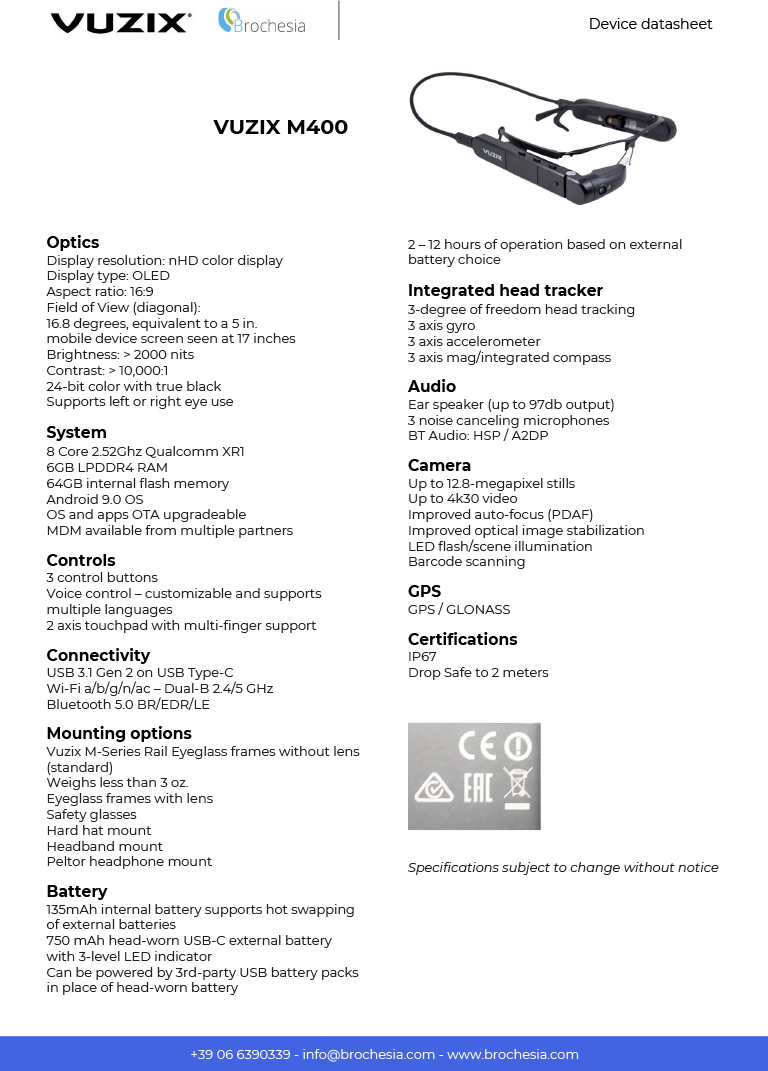 The most durable Smart Glasses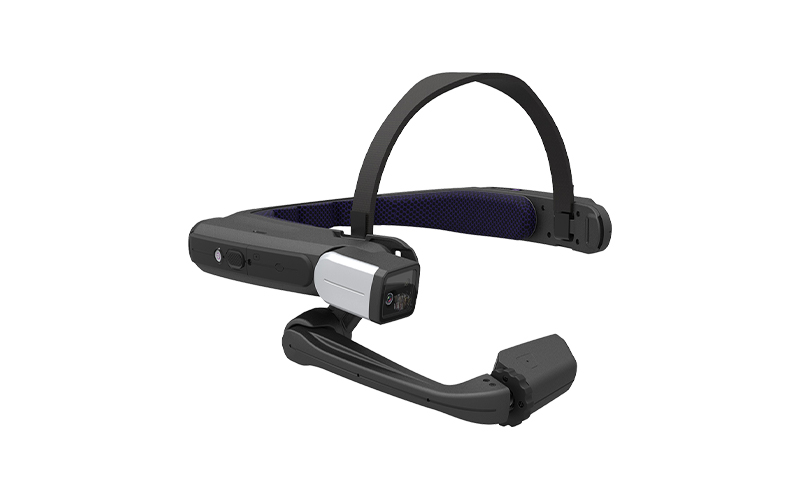 Monocular Device
Android Platform 8.1
Voice Commands
Protection Level IP66
Realwear HMT-1 is the most performant and the most expensive model on the market.
They are mini portable computers, easily wearable on the head and suitable for every person. They are robust devices that guarantee security and stability.
Voice commands Smart Glasses
This device only works thanks to vocal commands. This allows the wearers to work and do any activity with free hands; due to this fact, having the computer inside, this device is heavier than other ones. Its weight is around 300 gr.
Media Glasses with protection certificate
Realwear HMT-1 Smart Glasses have a practical design and a resilient structure, since they are designed to adapt to any environment, from the dampest to the dryest, from the coldest to the hottest.
They have very high certification levels and can withstand up to 2 m high falls on concrete. They are perfect for outdoor and indoor environments alike, thanks to their flashlight, and they ensure a high quality resolution.
The battery can be removed while hot. It can be replaced during use without restarting any application or rebooting the device.
Data Sheet Realwear HMT-1